Operated by The Seed, The Rising's own youth ministry, will be featuring:
Fresh Dunkin donuts coffee, assorted herbal teas, and hot chocolate for 
Water, Oj, and apple juice 
Muffins, bagels, and pastries 
  Soda   Chips 
Stay a while and enjoy a beverage or snack in the fellowship foyer, with 5 comfortable couches to choose from. Or hangout in the community room with plenty of tables to have group discussions.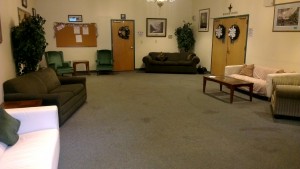 The items listed appear more regularly than most but are subject to change.